It's been a busy couple of weeks in the world of COVID-19 vaccines – there are lots of changes afoot. And lots of changes bring lots of questions. So today we are talking COVID-19 vaccine boosters, shots for kids, and more!
Setting the stage
As much as I wish it wasn't so, we are STILL in the thick of battle against COVID-19. The situation looked so promising as we headed into last summer. But as states relaxed requirements for mitigation measures (prematurely, as it turns out) and individuals grew weary of masking and distancing, the Delta variant took hold, throwing us a dangerous curveball.
Even though we are again starting to see a decline in COVID cases and deaths, the numbers are still significant. And if we have learned anything during this Pandemic, it is that we shouldn't let our guard down too soon. So, as we head into the fall and winter months, the traditional time of cold and flu season, we need to focus more intently than ever on protecting ourselves and our children. We do this through interventions that decades of experience tell us work well – vaccination and public health mitigation measures.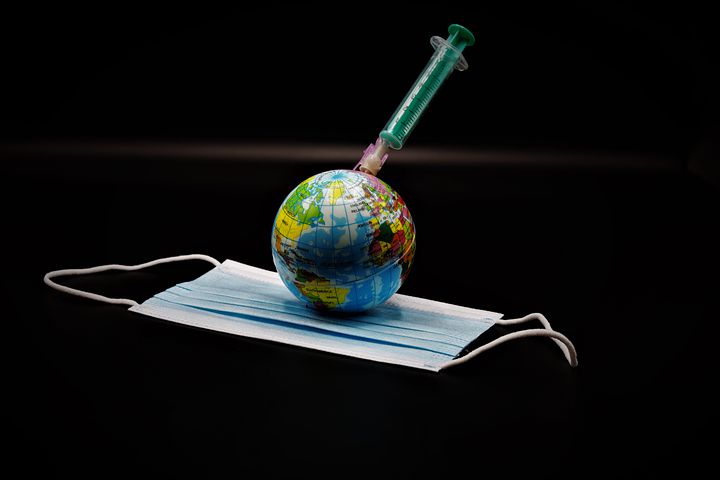 Vaccination, masking, and other public health measures are what will ultimately get us through the SARS-CoV-2 Pandemic. Image from Pixabay.
Third doses and boosters
Why do we need extra vaccines, you ask? The answer is different depending on whether we are talking about 3rd doses or boosters. They are not the same thing. Let's look at the difference.
Third doses
Third doses are for those people who are immune compromised*. Examples include:
people with HIV/AIDS
people with cancer, organ transplant, or autoimmune conditions taking certain immunosuppressive medications
those with inherited conditions that affect the immune system, among others
It is now felt that people who are immune suppressed never really responded fully to the initial 2 dose (for mRNA vaccines) series of COVID vaccines. They need 3 doses to achieve a better immune response. The 3rd dose should be given at least 28 days after completion of the original series. So, if you got your COVID vaccines back in January, for example, you are due ASAP for your 3rd dose. But remember, this is a FULL dose 3rd dose. We'll see below that those eligible for a booster (again, different thing than a 3rd dose) will only be getting a half dose of Moderna.
Booster doses
Booster doses are now recommended because we are seeing the immune response, in even those with a healthy immune system, wear off over time. Partly because of this waning immunity, and because the Delta variant is SO much more transmissible, we are seeing greater numbers of breakthrough infections.
However, I want to emphasize that this does not mean that the vaccines aren't working. In fact, for the purpose of preventing the most dire COVID related-outcomes, our vaccines are still HIGHLY effective (please remember this if you are not yet in one of the eligible groups for a booster). People now being hospitalized and dying of COVID are almost entirely those who are unvaccinated or under-vaccinated.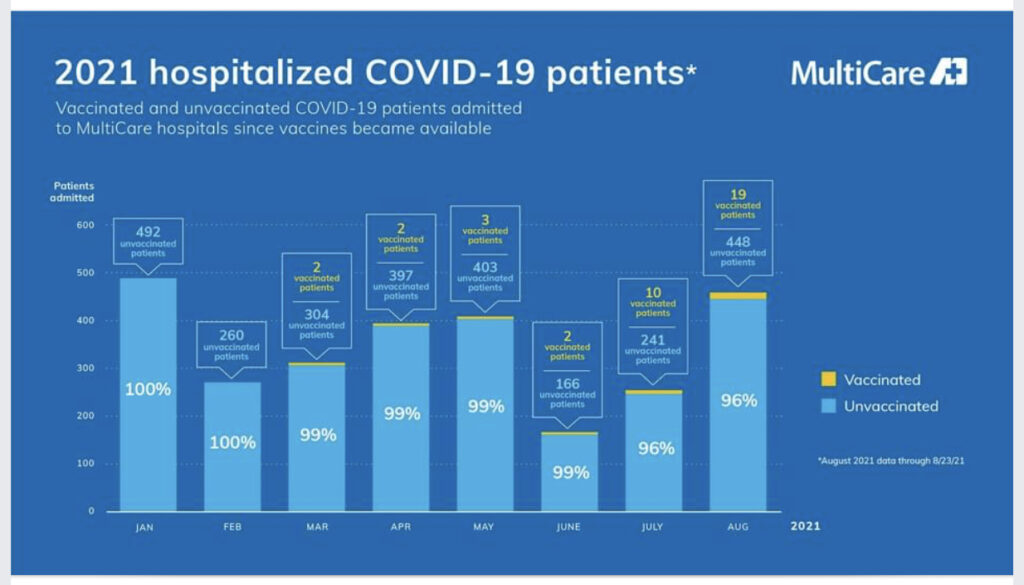 Chart showing difference in MultiCare hospitalization numbers based on COVID vaccination status. Similar numbers are being seen around the country. Photo from MultiCare INW Facebook page.
Do people who've been vaccinated fully still die of COVID breakthrough infections? Yes, but rarely. Vaccinations make illness much less serious. When deaths from breakthrough infection do happen, they tend to be in people who are elderly or have underlying conditions that put them at greater risk for complications. For example, Colin Powell, who recently passed away from COVID despite being fully vaccinated, was 84 years old and suffered from Parkinson's Disease and a type of blood cancer called Multiple Myeloma that makes it harder to fight infection.
Because no vaccine is 100% effective
Breakthrough infections are expected and happen with all vaccines. But risk of infection depends on two things – the individual's immunization status and the immunization status of those around them. We need to increase the total number of people immunized to decrease transmission. And we need for those at greatest risk of breakthrough infections to get boosters when due.
Who is eligible for a booster?
Pfizer/Moderna
65 years and older
18+ who live in long-term care facilities
18+ who have underlying medical conditions
18+ who live or work in high risk settings
Johnson & Johnson
Everyone 18 and older
Why everyone 18+ when only higher risk groups are recommended to get a booster with Pfizer or Moderna? We are calling this a booster but it is really more like a second shot. The J&J trials have been looking at a 2nd dose all along. It turns out that adding that 2nd dose increased the efficacy of the immunization in preventing symptomatic COVID illness to around 94% (compared to around 66% after one dose in the earlier trials).
When should I get a booster?
If you got one of the mRNA vaccines (Pfizer or Moderna) you should get a booster at least 6 months after you completed your primary series (the first two shots). For the adenovirus vector vaccine (Johnson & Johnson), you should get a booster at least 2 months after your first dose.
What booster can I get?
The CDC's Advisory Committee on Immunization Practices (ACIP) recently voted to allow mixing and matching of vaccines. This means that, if you got a Pfizer primary series, for example, you could boost with Pfizer or Moderna. Or, if you got the Johnson & Johnson as your initial vaccine, you could boost with J&J, Pfizer, or Moderna. Especially for those who got the J&J vaccine initially, mixing and matching seems to make a lot of sense. Let's look at the data below from a recent study looking at results of mixing and matching vaccines.
| | | |
| --- | --- | --- |
| Primary series | Booster | Day 15 geometric mean fold rise in antibody levels |
| Janssen | Moderna | 75.9 |
| Moderna | Moderna | 10.2 |
| Pfizer | Moderna | 31.7 |
| Janssen | Janssen | 4.2 |
| Moderna | Janssen | 6.2 |
| Pfizer | Janssen | 12.5 |
| Janssen | Pfizer | 35.1 |
| Moderna | Pfizer | 11.5 |
| Pfizer | Pfizer | 20.0 |
Results of recent small pre-print study looking at mixing and matching vaccines. Each of the 9 vaccine combination arms had an average of 50 participants.
What symptoms should I expect after my booster?
Studies on booster dosing suggest that the after-effects of the booster doses are similar to those experienced following doses in the primary series. The Pfizer and J&J boosters are the same dose as in the primary series. The Moderna booster is a half dose (the primary series dose is 100 mcg and the booster dose is 50 mcg). It remains to be seen if the half dose Moderna will result in fewer aches, headaches, fevers, etc.
What if I'm pregnant or breast feeding?
None of the recommendations change based on pregnancy or breastfeeding status. Timing of booster doses is the same (6 months from last dose for Pfizer/Moderna or 2 months from last dose for J&J). It doesn't matter if your first dose was done in early pregnancy. You can still get your booster while pregnant. Mixing and matching is also allowed. If you had J&J as your first dose, you could get Moderna or Pfizer as your booster dose.
Exciting news! Shots for kids are just around the corner!
The FDA will be meeting this week to review Pfizer's data for immunizations in 5-11 year olds. If this passes review then the ACIP will meet next week for further analysis. From there, we will hopefully have vaccine available for kids within days. Here's what you need to know about the Pfizer vaccine for kids.
The dose for kids is different (10 mcg dose as opposed to the 30 mcg dose for adults). Kids are not just little adults. Their immune systems are different. In fact, they are often stronger than adult immune systems.
Kids' immune systems are tough! They are built to handle a constant onslaught of viruses, bacteria, and other antigens (proteins) to which they've never been exposed before. If they didn't have the ability to handle these challenges, many kids wouldn't survive childhood.
Kids mount a stronger immune response at lesser doses than adults do. They don't need as much to get their immune systems kicking into gear and building those antibodies, which are so important to fighting off COVID.
The dosing intervals will be the same. Kids will need one Pfizer dose followed by a 2nd one three weeks later. Will kids need boosters down the line? That remains to be seen.

The expected side effects will be the same. The trial data suggests that similar symptoms were experienced by kids as were experienced by adults following their COVID vaccines. They might expect some mild to moderate fatigue, aches, headaches, low grade fever, etc. These are more common after the second dose, just like in adults.

Worried about reports of myocarditis/pericarditis following mRNA vaccination? Note that the large majority of these cases are in older teens and young adult males. There were no cases found in the trials in 5-11 year olds**. Remember… mRNA vaccine-related cases seen in older vaccine recipients are MUCH milder than cases caused by COVID illness.

And don't forget… It's also flu season. Hoping to minimize the number of visits to the doctor's office or pharmacy to get shots? Yes, kids and adults can get the flu vaccine and the COVID vaccine at the same time. Please get your flu shot at your earliest convenience!
*If you are uncertain about whether you are considered immune suppressed, make sure to talk to your clinician so they can help clarify.
**Though, we have to keep in mind that the trials included just over 2000 participants. We may expect to find rare cases when this is rolled out to millions of kids.
Thanks for reading along. If you'd like to get more updates and information like this, hop on over to the home page and sign up to receive blogposts automatically. Until next time…